"Many breeds of dog were originally bred to work, but now many are kept solely as companions. In spite of this, dogs still need ample physical and mental stimulation to prevent behavioural problems. Training is one way to occupy a dog's mind" (Holden and White, 1999)
Detection dog sports have quickly spread as a way to engage your dog's natural hunt drive. Odor recognition training for pet dogs can help boost confidence in shy or reactive dogs, or help focus a energetic young dogs mind or enrich a senior dogs day! Sporting Detection is suitable for all dogs regardless of size, breed or age.
This course will teach you the secret of a clear formal indication. Clear Communication is the foundation to success in this sport. Dogs who can clearly communicate when they have found the source of the target odor increase in confidence and improve your team's efficiency. Sporting Detection provides challenges to both the human and their dog as they must learn to work together to solve complex scent problems.
Sporting Detection Foundation Training for Dogs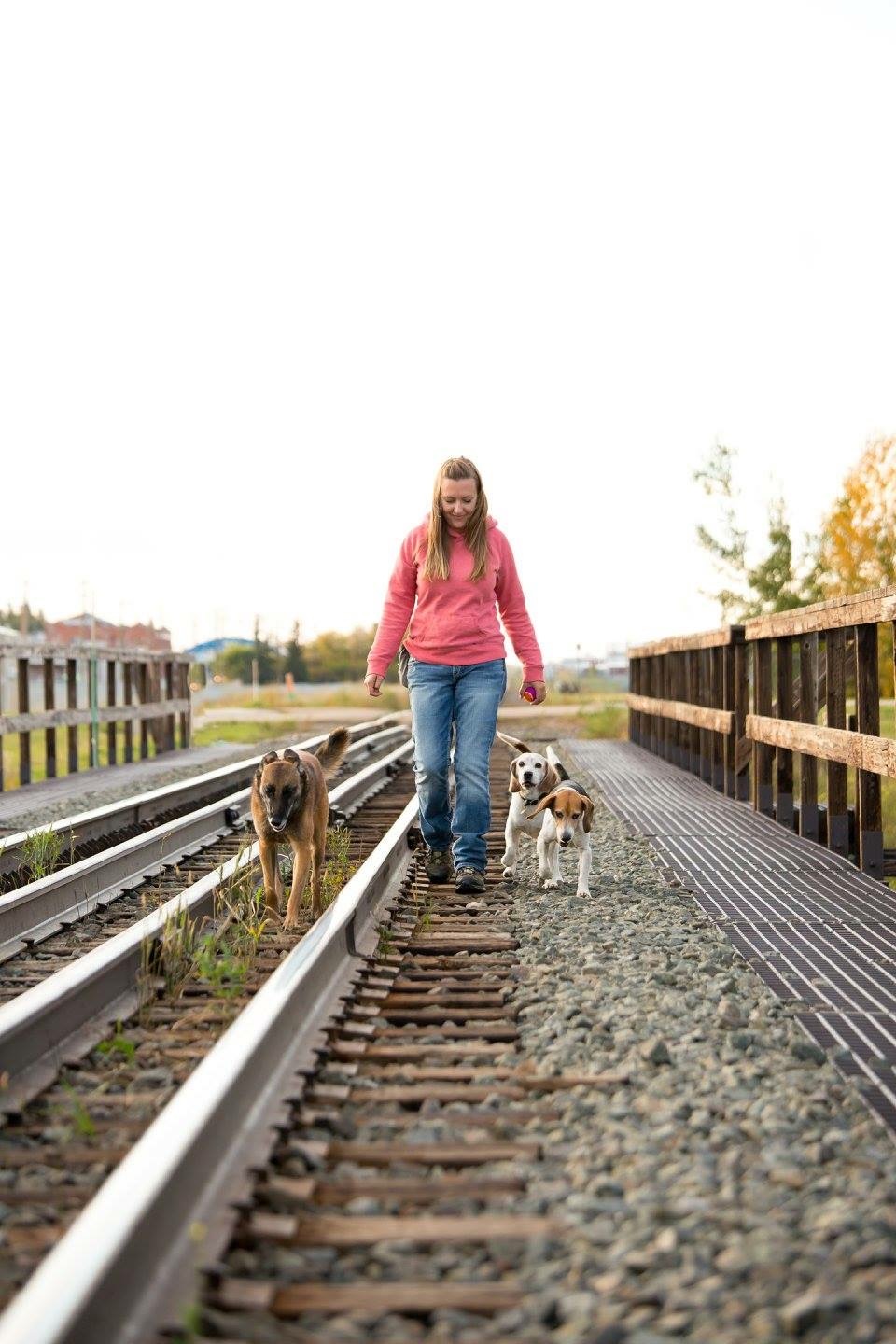 Hi I am Roseanna Gullekson BFA, CPDT-KA
I am a Sporting Detection Dog Judge, Certified Professional Dog Trainer, Master Championship and Elite title holder. In 2014 I hosted Western Canada's first Sporting Detection Dog Trial and since then the sport has grown like wild fire.
I love showing pet dog owners how to work with their dog to play this addicting sport, Not only will it provide mental stimulation but strengthen your understanding of your dog's olfactory capabilities. Teaching your dog to communicate hidden sources will help you trust your dog and in turn build their confidence.
I can't wait to help you get started!
Sporting Detection Foundation Class Equipment List:
Sporting Detection Dog Association Target Odours:
Wintergreen (gaultheria procumbens)
Pine (pinus sylvestris)
Adavanced level
Red/White Thyme (thymus vulgaris)
Excellent Level
**Confirm the Oil you purchase has the same latin name**
·     Waterproof Scent Kit (i.e. I use a waterproof Ammunition Case)
-3x individual plano bait wallet containers
Inside the scent kit:
-a tweezer for each odor in the bait wallet
-Small metal tins (watch cases from Lee Valley) I mark these tins so know which odor is in each tin and store each in their own bait wallet.
Separate from my scent kit to avoid contamination I have a plastic compartment box.
Q-tips
Cotton Balls
Colored Straws
Colored Micro Centrifuge Vials (hide barrier)
Tape
Scissors
Food Safe Poly Disposable Gloves ( they don't have the odor of Latex gloves)
Harness (Julius K9)
 6-15ft Leash
Your Dog's Favorite Food Rewards
Your Dog's Favorite Toy (i.e. Tug
Toy or Ball)
Bait Bag ( I use a chalk bag from Mountain Equipment Co-op)
4x Formal Response Boxes (Custom made wooden or Cardboard) See Plans.
14 Opaque Vented Boxes of any Material (i.e. Rubbermaid Containers with 1.5 inch hole)
Clicker
Garbage Bag for storing the Rubbermaid Container that has had odor